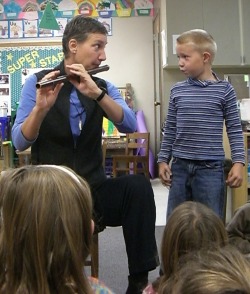 "We love Christine! Kids are so excited when they find out it's a Christine day. More importantly, kids take what they've learned with her and apply these skills and strategies in their own poetry as well as others areas of writing. Christine has a true gift in discovering that special teachable moment for a particular child or an entire class. What's really cool is the excitement continues in the classroom even after she finishes her magic."

--Peter Braden, Grade 1-2 teacher and coordinator of the artist-residence, Grant Street Elementary School Port Townsend, WA

Christine Hemp has visited schools for her entire professional career. Her enthusiasm and joy in working with children has informed her own writing as well as her work in business and consulting. She is currently the poet-in-residence for the second year at Grant Street Elementary School in Port Townsend, Washington. In May of 2010 Hemp was brought in by the Bisti Writing Project for a week at Blanco, New Mexico Elementary School where the children constructed their own "Land of Poetry" in relief maps, hiding their poems and wishes in the mountains and the caves.

Christine was poet-in-residence for the Deer Isle, Maine schools and collaborated on a project with ceramic artist Eddie Dominguez where children created their own "Islands of the Imagination" where all their poems were fired into clay and hung as an archipelago across the hallway. From the east coast to the west, children of all ages have written poem after poem under Christine's encouragement.

---