2/20/2013
Port Townsend Leader Port Townsend, Washington
Young minds tackle Shakespeare's big ideas
Grant Street students bring Shakespeare's
'As You Like It' to the stage
By Christa Ayer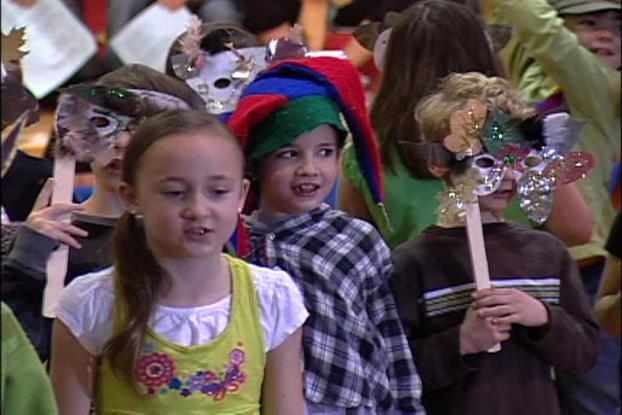 "All the world's a stage, and all the men and women merely players … " Heavy thoughts coming from a second-grader, but that's just what lucky audiences saw last Tuesday at Grant Street Elementary School. Students, led by poet Christine Hemp, put on two performances of Shakespeare's "As You Like It," a comedy featuring mistaken identity, girls disguised as boys and – of course – love.

Audiences would have noticed the kids' versions of this play varied somewhat from that of the Bard, and that was quite intentional. Seven Grant Street classes took part in writing different acts, and Hemp worked in Shakespeare's words. The result was two individual performances, featuring scripts and songs written by the students. The kids also created masks and scenery with the help of artists Jesse Watson and Wanda LeClerc.

Good old 'Uncle Bill'

Hemp's goal was to make the words of Uncle Bill – as the children refer to William Shakespeare – accessible. The project started in the fall with poetry and prose instruction from Hemp, as she worked with students in the art of putting feelings into words. The spring portion of the project culminated in Tuesday's performances, which embodied the children's words alongside the Bard's, complete with singing, scenery and costumes.

"The core of this program is for the children to understand the feelings behind Shakespeare's story," says Hemp. "They then turn those feelings into something real."

Feelings put to song

The performances featured a half-dozen songs – some original to the play and others written by Grant Street students. Grant Street music teacher Larry Pepper set all the lyrics to the tunes of folk songs from around the world. He also led a choir of first- through fifth-grade Port Townsend Optional Education Program (OPEPO) students to accompany the play. For the big finale, all of the kids learned to sign the words to "All the World's a Stage."

After the performance, Pepper beamed with pride at his students' work.

"This is really something the community should know about," he says. "These parents should be so proud of the effort their kids put into this play."

Inspired learning

The two-semester project was funded by a $10,000 grant, half of which came from the Port Townsend Education Foundation, with the balance coming from a combination of Drama Levy tax funds, Music Levy tax funds and the Grant Street PTA. Part of the grant's goal was to give students skills they can use not only in their reading and writing, but also in public speaking and in their interactions with each other.

"Integrating the arts into the core subjects of reading and writing provides strong motivation and engagement for learning," says Grant Street principal Mary Sepler.

Teacher Dorothy Stengel sees this type of learning playing out in her classes as well. "[My students] have all told me they feel pretty excited about getting to read more Shakespeare when they get older."

Comedy, melancholy

Hemp's choice of "As You Like It" wasn't necessarily because it's a comedy and therefore potentially easier for a younger audience to understand. In fact, she originally considered "Hamlet."

"Hamlet is a great character, and it's bloody, which the boys would love," says Hemp. "But 'As You Like It' is heartfelt and silly, and I think we all could all use a little silly right now."

Yet the play isn't all childishness. There are melancholy aspects, too.

"Jaques is quite a melancholy character. He spends a lot of time questioning what's going on around him," Hemp says. "The melancholy feelings he expresses are valuable for the students to explore."

When asked what inspired her to explore Shakespeare's sophisticated material with such a young age group, Hemp says, "Why not have the children's writing alongside Shakespeare? Children, like adults, love a good story."

Christa Ayer is a flourishing transplant to Port Townsend. Formerly a senior editor on a family of tech magazines, she is now a freelance editor and writer, and a happy mom of two kids who amaze her daily with their love, creativity and just plain silliness.





---