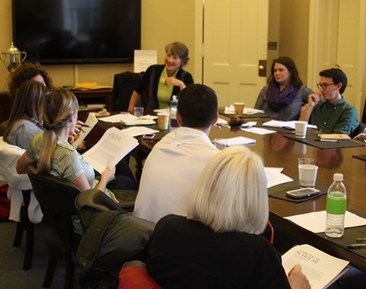 In Praise of the Writing Workshop with Christine Hemp
Hosted by Delbarton School and Mr. Kevin Brown
by Laura Petrie, Hilltop Country Day School, Sparta Township, NJ
2015

I have been an English teacher for over thirty years. In my professional time, I have attended classes, both undergraduate and graduate, sat in on seminars and webinars, taken notes from lecturers and power points, and read countless volumes and articles from journals which all purport to tell me how to teach writing to my sometimes reluctant and unpolished middle and secondary school students. I have notebooks, highlighted pages, workbooks, and model lessons in my arsenal of teaching strategies to reference and review. Some are redundant, some are impractical, and most are suited for that ideal day when the stars are aligned, and both my students and I are in the magical moment when good writing can occur.

But for the past two Novembers, I have been fortunate to attend the Writer's Workshop hosted by Delbarton's Kevin Brown and the delightfully inspiring Ms. Christine Hemp. These annual events are unlike any other teacher-workshop I have ever seen. At the heavy mahogany table in the historic Old Main building on Delbarton's campus, teachers are treated to an entire day of celebrating words, reading fine poetry and prose, and the joy of writing in response to a few challenging prompts.

This day is not about the strategies of teaching good writing. This is about the celebration of creating good writing. Each teacher's voice is heard, each work is discussed and critiqued, and each creation is valued for the bits of genius and the limitless potential that it contains. We are writers at this workshop – actively learning how to be better writers – with the gentle but assured guidance of Ms. Hemp and the encouragement and input of our peers.

Christine Hemp is a remarkable writer in her own right, but she is also a gifted writing coach. As she shares her work with us, something created in twelve minutes, no less, we are invited to witness the process of imagining, revising, and discovering that can be found in writing. We are eager to follow her example and jump in to the topic armed with our directions: choose three colors, use three cooking verbs, and what you can hear right now. Go!

And we go! Because we are in quite capable hands, surrounded by teachers who don't just want to teach good writing, but who want to model good writing. We rage against that sad cliché, "Those who can't, teach!" We are writers, first. That's what brought us to this profession. And after days, months, and years, or focusing on lesson plans and report cards and annual goals and test scores, it is an absolute gift to remind ourselves of the wonder of writing and growing and putting words together in a unique and exciting way.

The Writing Workshop with Christine Hemp inspires and nurtures writers. The confidence and enthusiasm that it generates is invaluable to teachers.



---