HEAL: HUMAN-EQUINE ALLIANCES FOR LEARNING MAGAZINE
Winter Issue 2012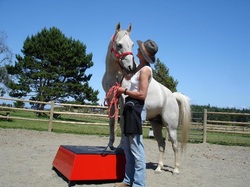 SUMMER IN WINTER

for Summer Martell, leader of our Eleven-horse, Full-Moon Ride, January 8, 2012

The valley held its breath. First full moon
of a brand new year. No breeze or frost. Like August,
someone said. Our legs hugged our horses' bellies,
trusting we'd be ferried far across the reach
to forests filled with snags and fingered roots.
No one knew who rode behind or ahead, our bearings
only intermittent flash of grey, a splash of pinto,
palomino in the dark. A dog or two wove
through the moving legs. Each steady hoof-fall
beat our ancient bond: What code is it that calls them
to offer us their backs? To carry this woman-posse
through the wash of night, hooting at the moon?
We trotted up the scree and made it to the quarry:
Standing stones. Prehistoric shadows of a backhoe,
a rusty loader, and a cat. The horses snorted,
strained to move along, sweat dampening their fuzzy
hides. When finally we lined out into open fields,
mist rising up our legs, we hardly knew at all
where human stopped and horse began.
--Christine Hemp
About the Author: Poet, writer, and coach Christine Hemp lives in Port Townsend, Washington. Her Arabian horse, Buddy, ignites her curiosity, her delight, and her gratitude. She writes, produces and hosts a public radio program on KPTZ Radio called "The Hempsonian Institute of Higher Yearning." www.christinehemp.com


---