POEMS TO LIVE BY
A Port Townsend Weekend Writing Workshop with Christine Hemp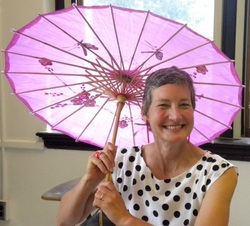 Poetry arrives in the stray black sock; a piano note; the raised eyebrow of a friend who has just received bad news; the smell of your lover's jacket. This workshop will help you fan your poems into life. It will also give you new tools to read poetry. We will do lots of in-class writing, which includes prose. So if you are unsure about what form your wiggling ideas are supposed to take (prose or poetry?) this workshop will serve you either way. You will leave with at least one completed piece. Prepare to stretch your imagination, your skill, and your sense of adventure. Bring only your pen, a notebook, and a question you don't know the answer to.


FOR: Beginning and experienced writers alike
DATES: Saturday November 21, Sunday November 22
TIME: 10 a.m. – 1:00 p.m. each day
LOCATION: North Beach: 5445 Kuhn Street
COST: $125
Please reserve a space early: hemprope@christinehemp.com. Direct any questions to Christine at 385-9005.

Christine Hemp has been awarded a Washington State Artist Trust Fellowship in Literature, a Barbara Deming/Money for Women grant, the Donald Murray Award at UC Davis, a residency at Vermont Studio Center, and an Iowa Award for Literary Non-Fiction. Her work has appeared in the Iowa Review, Harvard Magazine, Boston Globe, Yale Anglers Journal, and American Falconry. Her art writing has appeared in Art & Auction, American Craft, and THE: Santa Fe's Monthly Magazine of the Arts. Her poems and essays have also been featured on NPR's Morning Edition. Hemp served as poet-in-residence at three of our National Parks, and her work is now available in the cosmos since a poem of hers blasted off on a NASA mission to monitor pre-natal activity of stars. She teaches at the University of Iowa Summer Writing Festival.


---